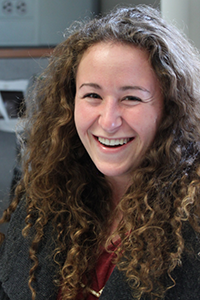 Sarah Leichter
Sarah is a current graduate student in Dr. Xuehua Zhong's lab in the Department of Genetics & Wisconsin Institute for Discovery. She is interested in the patterns of epigenetic marks throughout the genome and the functional consequences of changes to these epigenetic marks. Understanding and detecting the patterns of epigenetic marks throughout the genome is important to understanding the roles they play in many biological processes, and the consequences in disruptions in these patterns.
Why did you choose UW-Madison? I chose to come to UW-Madison because I felt that the school and the professors' top priority is to train graduate students, and I got a strong sense that all the students were happy to be here. I also felt as if there were many options of different research topics conducted throughout campus, and knew there would be plenty of options for choosing a thesis lab.
Where is your favorite place to study? The fourth floor of the Wisconsin Institute for Discovery, one side of the building is floor to ceiling windows allowing for sunshine to pour into the building. It makes for a great spot to study year round to enjoy the sunshine, especially in the winter.
Advice for future graduate students? Come into graduate school with a flexible idea for what you would like to study, there may be labs or projects that become opportunities for you that you may have never thought of pursuing.